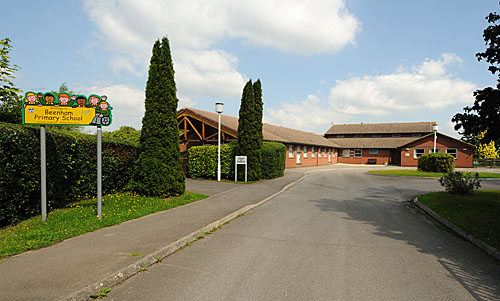 Beenham School was purpose-built on the current site in 1986. The building has since been extended twice.
The building provides four classrooms, a large hall, a well-stocked library and an IT suite. Beenham Community Room is part of the school site, and enables the school to have a close working relationship with a variety of local groups.
The school aims to provide the children with the very best education possible, within a caring and supportive framework in which the children enjoy learning.
The school usually has between 80 and 100 pupils on roll. Children are taught in mixed-age, mixed-ability classes. Children are taught all subjects on the National Curriculum, and are offered a wide-range of extra-curricular clubs and activities.
The school has a comprehensive prospectus which provides details of all aspects of school life. If you would like more information or would like to make an appointment to look round the school, please contact Mrs Karen Homick-Radley, the school business manager, or Mrs Sue Butcher, Head Teacher on 0118 971 3397 or e-mail finance@beenham.w-berks.sch.uk.
Beenham School Parent, Teachers and Friends Association (PTFA)
All parents and staff at Beenham School are automatically members of the PTFA. A committee is elected each year to organise events and activities in order to raise money for the school. Over the years, the PTFA has helped enable the school to build an outdoor classroom (the secret garden), install sun blinds in the classrooms, improve their computers, put gates on the playground and build a new outdoor playground.
If you are interested in joining the PTFA, or your organisation would like to take part in an event, contact Mrs Karen Homick-Radley (School Business Manager), Tel: 971 3397
Pre-school and after-schools organisations
Click here for details of Beenham Pre-School Group and the Beenham After School Club (The Wolves Club)
West Berkshire Education Services
West Berkshire Council Education Service recognises that families and communities will wish to respond to consultations about matters such as school admissions, home to school transport, school term dates, or changes to school organisation (catchment areas, new schools and so on). This document tells you how West Berkshire Education Service will consult, and enable people to register for an email alert and/or a Twitter alert.