The UK Wolf Conservation Trust
Working to Keep Wolves in the Wild
Set in the beautiful English countryside of meadows and woodland, the UKWCT centre with its observation and education centre, attracts visitors from all over the world. The Trust currently has 10 wolves including Arctic wolves, a Canadian Timber wolf & Grey Wolves.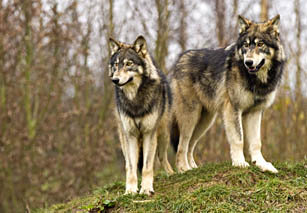 The Trust was established in 1995 to help wolves in the wild throughout the world, and especially Europe. The UK sadly lost its wild wolves a few centuries ago, but the British people still care passionately about wildlife and our lost indigenous species. Many are keen to support wolves in other countries.

The foundation of all work is based on education and raising awareness about wolves and their conservation. This underpins everything we do from organising world class seminars twice a year to publishing and distributing Europe's leading wolf conservation magazine, Wolf Print.

The Trust has strong links and partnerships throughout the world with many different organisations and groups, and works to help communities and wildlife to live alongside each other. This is especially important for wolves as they are creatures that have been reviled in many countries and are still persecuted to this day. Fostering co-existence between wolves and humans is increasingly important for their future survival.

The Trust helps to support NGOs through financial donations particularly in European countries, and in order for us to raise these funds we have a variety of activities..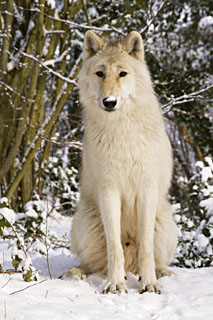 Education
School visits are an important part of our calendar. We encourage schools and universities to come and visit us and observe the wolves playing and relaxing in their specially landscaped enclosures, listen to a wolf presentation given by our Education Team and go out on a walk with our ambassador wolves. This is an effective way of dispelling the prevailing perceptions and attitudes fuelled by centuries of myths, legends and fairy stories such as Little Red Riding Hood and the Three Little Pigs. The students are always fascinated by seeing the wolves first hand, and it is hoped that this will help promote a long term interest in nature and wildlife conservation.
Walk with the Wolves
Members of the Trust have the opportunity to walk with wolves on our weekend wolf walks. After a short safety brief you'll join the wolves and their handlers on a walk around the surrounding fields of the Trust. There are also plenty of opportunities to take photos, with the route specially chosen to provide several especially photogenic settings.
Wolf Print
Wolf Print is supported by the world's leading wolf biologists and researchers, NGOs, academic institutions and various government departments. Focusing on issues of wolves and their conservation, particularly in Europe, Wolf Print keeps readers up to date on current events.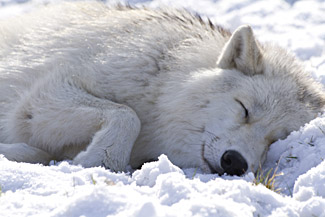 Seminars
Each year the Trust holds a seminar during Wolf Awareness Week and invites speakers from different countries. The Trust invites speakers from different countries and in the past delegates have listened to some of the world's foremost experts on wolves and their conservation. Following the talks, delegates can attend a walk with the wolves, and the chance to catch up with like-minded people.
Merchandise
The sale of merchandise helps to fund our many activities, and helps to support our partners and wild wolf projects. Our catalogue and online shop serve as an international shopping place for wolf lovers everywhere.
Adoption
The Trust has ten ambassadorial wolves, all of whom are very photogenic. People who 'adopt' our wolves are sent a beautiful pack complete with biography, one free entry to visit their adopted wolf any Wednesday through the year and a photograph of their adopted wolf. The proceeds from adoptions go towards the upkeep for our own wolves as well as donations to wolf conservation projects.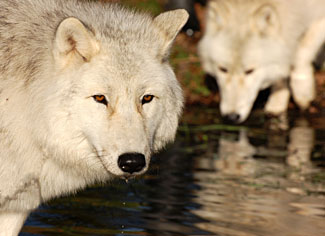 Special Events
We hold a wide variety of special events at the Trust, including our popular Wolf Keeper Days, where you spend the day assisting our Wolf Keeper with his daily routine which includes preparing food and accompanying our ambassador wolves on their enrichment walk. Among our other popular events are our Photography Days, Howl Nights and Children's Wolf Walks. For a full list of all of the events we run please visit our website or call the office.
You can support the Trust by donating, becoming a member, buying merchandise, subscribing to Wolf Print or getting involved in some of the activities we run.
For further details please visit our website at www.ukwolf.org or write to us at The UK Wolf Conservation Trust, Butlers Farm, Beenham, Reading, England RG7 5NT. Telephone: 0118 971 3330.


Working to Keep Wolves in the Wild